CENTRAL FLORIDA CHRISTIAN CHAMBER OF COMMERCE
We Love Our Members!
We Build Kingdom | Business | Community
U.S. Christian Chamber - Strategic Alliances: The Uncommon Path to Business Growth
U.S. Christian Chamber - Strategic Alliances: The Uncommon Path to Business Growth
Tuesday, November 28, 2023 (12:00 PM - 1:00 PM) (EST)
Description
Unite, Collaborate, and Advance with the U.S. Christian Chamber of Commerce.
Event Overview: Change the way you view competition. Discover the power of collaboration and the boundless possibilities of Kingdom commerce. In this series, learn how Biblical values transform the marketplace and why there's room for all at the top.
🗣 Featured Speakers:
Mike Henry Sr.: CEO and founder of Follower of One.
Jim Brangenberg: Co-founder of iWork4Him, a top-rated faith and work podcast.
Krystal Parker: President of the U.S. Christian Chamber of Commerce.
Tom McCoy: Chief Operating Officer International Christian Network (ICN).
Join us on this transformative journey where faith and business converge, breaking the traditional mold. Together, let's pave a new way, making Kingdom values the core of our economic pursuits.
The U.S. Christian Chamber of Commerce invites you to be part of this change. Let's advance the Kingdom, one uncommon alliance at a time.
Unlock Business Growth: The Power of Purposeful Partnerships
Are you looking to elevate your enterprise to the next level? Tired of the same old competitive rat race? There's a transformative strategy that transcends traditional business practices: Purposeful Partnerships.
📈 Why This Event is Crucial for Business Owners:
Dynamic Growth: Discover how collaborating, rather than competing, can skyrocket your business growth.
Shared Success: Dive into real-life stories of companies that exponentially grew through uncommon alliances.
Purpose Over Profit: Understand how a Kingdom-driven collaboration can lead to a more meaningful and sustainable business success.
Expand Your Network: Interact with fellow Christian business owners, and potentially meet your next business ally.
Highlight: At the U.S. Christian Chamber of Commerce's Kingdom Business Education Series, you'll not just hear about the value of business growth through partnerships; you'll witness it. Experience firsthand accounts from established business leaders who've reaped the rewards of purposeful collaborations.
Don't let your business be left in the shadows of conventional strategies. Register today and illuminate your path to unparalleled growth through purposeful partnerships. Witness how the blend of faith and business can redefine success and lay the foundation for a flourishing enterprise.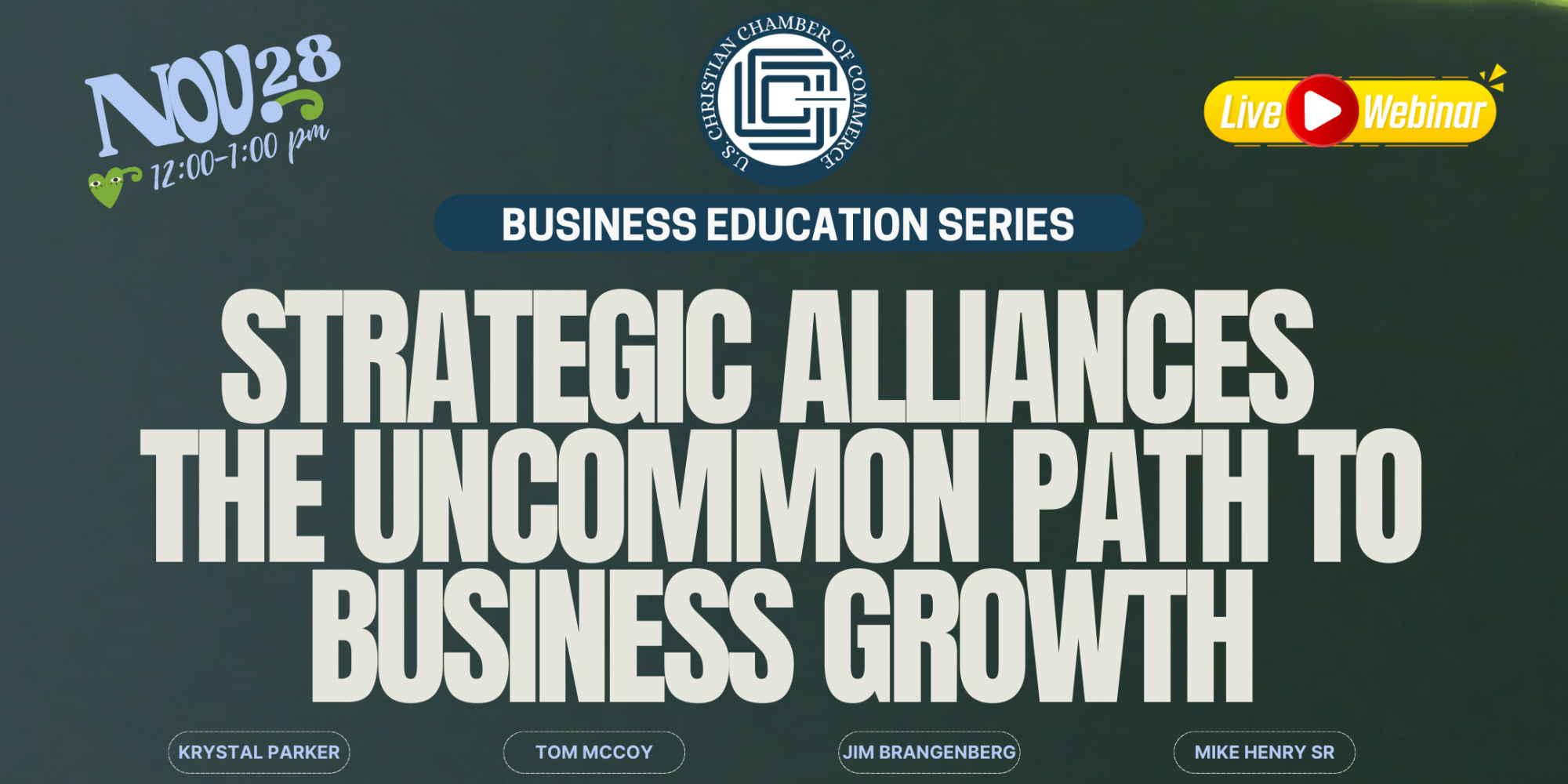 ---
Faith-driven CEOs often outperform their peers. The Kingdom Business Education Series will explore the integration of faith and business with top thought leaders worldwide. Christian Chamber members from across the globe are invited to attend. Register today!
Pricing

Virtual Zoom

Tuesday, November 28, 2023 (12:00 PM - 1:00 PM) (EST)
Virtual Room Opens at 11:45AM EST