CENTRAL FLORIDA CHRISTIAN CHAMBER OF COMMERCE
We Love Our Members!
We Build Kingdom | Business | Community
Project Hope | FREE "My Ascension" Viewing
Project Hope | FREE "My Ascension" Viewing
Friday, September 23, 2022 9:00 AM - Tuesday, September 27, 2022 7:00 PM (EDT)
Description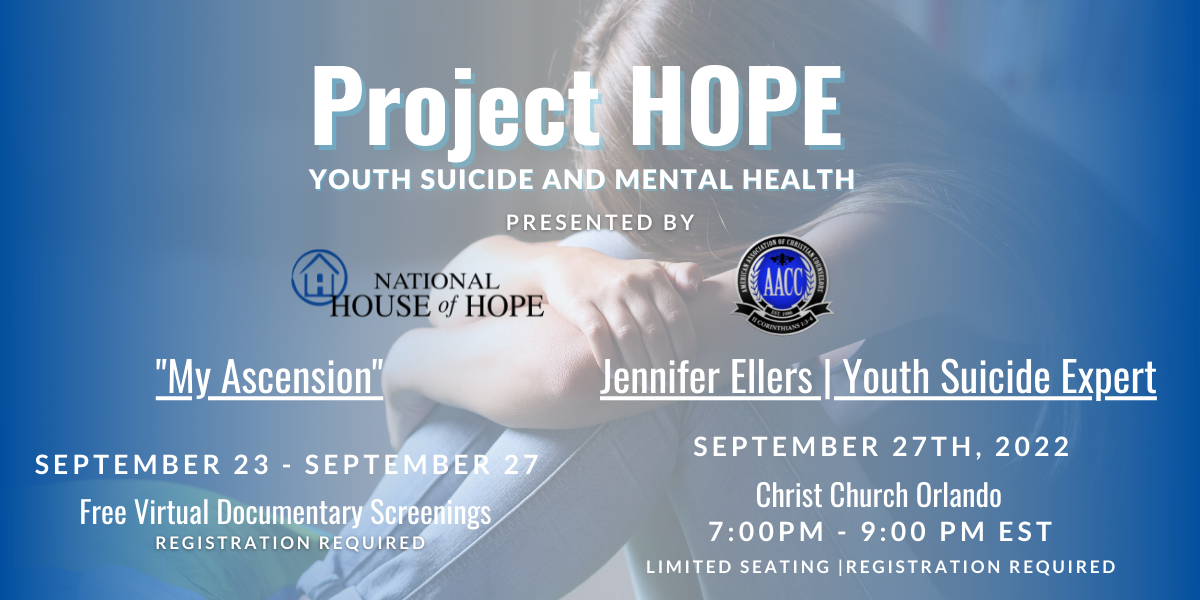 Join National House of Hope and the American Association of Christian Counselors (AACC) for Project HOPE, Sep. 23-27, as we bring awareness to teen suicide and mental health through two powerful events.⁠


You are invited to attend a FREE Virtual screening of 'My Ascension', a documentary about the journey of Emma Benoit, a teenage suicide survivor.⁠


Learn first-hand from families, friends, school officials, and suicide prevention experts about the devastating effects of suicide and what can be done to prevent it.
⁠
On September 27th, youth suicide expert and counselor, Jennifer Cisney-Ellers, will share in person valuable insight and wisdom on the signs and symptoms of depression, anxiety, stress and other issues that lead to one becoming suicidal. This FREE Workshop will take place at Christ Church Orlando, 7pm - 9pm.


More about "My Ascension" :

A suicide attempt left 16-year-old varsity cheerleader, Emma Benoit, paralyzed, but propelled her on a mission to use her painful experience to help others find hope and shine more light on the fact that 20 young people die every day by suicide in the United States.
'My Ascension' is a feature-length documentary that chronicles Emma's inspiring journey and quest to walk again as she works to bring Hope Squad, a school-based suicide prevention program, to Louisiana.
The film also highlights the stories of two remarkable young people who tragically did not survive their attempts.


Registration is required - reserve your spot today! We hope to see you there!


To learn more and to register, visit:
https://www.nationalhouseofhope.org/projecthope

Friday, September 23, 2022 9:00 AM - Tuesday, September 27, 2022 7:00 PM (EDT)