CENTRAL FLORIDA CHRISTIAN CHAMBER OF COMMERCE
We Love Our Members!
We Build Kingdom | Business | Community
Christian Women's Summit 2023
Christian Women's Summit 2023
Saturday, September 30, 2023 (9:00 AM - 12:00 PM) (EDT)
Description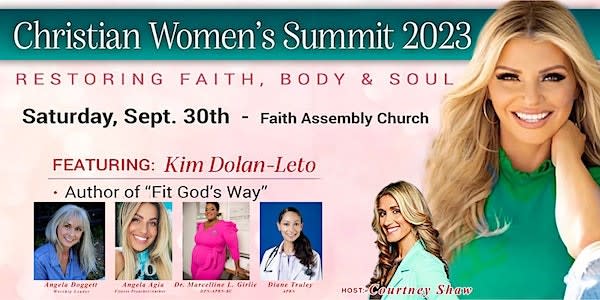 Saturday, September 30th at Faith Assembly Church it's the Christian Women's Summit 2023, presented by The Word Orlando AM 990 / FM 101.5 and Salem Media Group Orlando.
It's a day of fellowship and friendship as you join Women of Faith from across Central Florida for an unforgettable experience that will uplift your spirit, soul, and body.
Featuring
Kim Dolan-Leto| Guest Speaker
Kim Dolan Leto's new book, Fit God's Way, is now available. She is the author of the best-selling Christian fitness book, 10 Steps to Your Faith Inspired Transformation, F.I.T., and the Strong. Confident. His. Faith and Fitness Devotional, a faith-filled inspirational speaker, creator of the Faith Inspired Transformation, F.I.T. DVD workout series, and the host of the Strong. Confident. His. Podcast. Kim has graced 25 Fitness Magazine Covers and written countless articles. Her work has been featured on the 700 Club, TBN, CBN, FOX, Babbie's House, Hope Today, Life Today, ESPN, and ABC and published in Jesus Calling, The Christian Post, Relevant, Oxygen, Muscle & Fitness Hers, Fitness, Success, Faith and Fitness Magazine, Train and many other health, fitness, and Christian publications. She was the longstanding Faith and Fitness expert for HIS Radio and currently, her F.I.T. Workout Series is streaming on Pure Flix. She is an ESPN Fitness America Champion and proudly represented America as the only American in the top five for Fox Sports Ms. Fitness World.
Courtney Dawn Shaw| Host
Courtney is the author of "New Dawn, New Day, New Reign", speaker, health advocate, spokesperson, TV/Radio Host, and Mrs. Florida America 2014-15. You can always catch Courtney out in the community serving, speaking, and hosting charitable events. She is a long-time health advocate and member of the President's Council on Sports, Fitness, and Nutrition. Courtney has impacted countless lives through all forms of media with her message of hope, health, freedom, and passion for living an authentic life in Christ. Her energy, relatability, transparency, and zeal for life is contagious.
Angela Doggett| Praise Leader
Angela Doggett is a mother of two, and grandmother, an inspirational singer, has been on numerous Inspirational TV Shows, including hosting her own show for women encouraging them to be their BEST. She has been encouraging others all around the country for over 30 years. It was during a season of reflection, that Angela discovered a new passion to add to her life…Health and Fitness. Author of N1peace, is a vision that is birthed from a period in life when all the broken pieces of Angie's life found their place, a place of being…n1peace. Her adage is to empower others to live their BEST life from the Inside Out through healthy living and life enrichment. Her desire is to help others feel the absolute BEST they can within, as well as, without. It's not about having the perfect body. It's about thriving mentally, physically and spiritually, from the Inside Out! N1peace J"
Our Wellness Panel
Dr. Marcelline L. Girlie| DNP, APRN-BC
Dr. Marcelline L. Girlie, a Haitian-born native of St Martin, is a remarkable individual who wears many hats. As a dual board-certified Family Practice and Psychiatric Mental Health Nurse Practitioner, she offers comprehensive and compassionate psychiatric care through her telepsychiatry practice, Vivid Minds Mental Care. Dr. Girlie's unique touch combines her medical expertise with a captivating fashion-forward approach, empowering her patients in Florida to prioritize their physical, mental, and spiritual well-being. Beyond her professional achievements, she is a devoted wife, proud mother of two miracle babies, and an active member of her local church where she serves alongside her husband. Driven by her passion for philanthropy, she co-founded the nonprofit organization Imperial Legacy, Inc., where she spearheads initiatives in family literacy. Additionally, Dr. Girlie created CurvEssentials, an e-commerce boutique that inspires plus-size women to embrace their curves with confidence, reflecting her commitment to helping others live vividly from the inside out.
Angela Agia| Fitness Preacher/Author
Holy Spirit Flow is a trademarked and developed program led by Angela Agia, a highly regarded authority in the health and wellness industry for nearly two decades. Angela's expertise has made her a sought-after figure in cities across the United States, including LA, Miami, and Orlando. With over 10,000 classes under her belt, Angela has personally trained a diverse range of individuals, from celebrities and All-Star athletes in the NFL, NBA, and MLB, to world-renowned pastors, CEOs, stay-at-home parents, teenagers, and even toddlers. Angela is also a devoted minister of the faith, bringing the love of God to every room she enters. Angela's passion for serving others extends to mentoring and coaching displaced children at foster homes in Miami and LA. She organizes weekly events and leads large groups of volunteers in similar endeavors. Angela's dedication to serving God is evident in her involvement with various churches in Miami, Los Angeles, and Orlando. Angela is an active leader and prayer warrior for her community, friends, and family. Angela's profound knowledge of the Bible allows her to effectively mentor and guide individuals, facilitating discussions and providing opportunities that lead to lasting spiritual success.
Diane Truley| APRN, Women's Preventative Health
Diane is licensed in the state of Florida, is certified by the American Academy of Nurse Practitioners. Diane is experienced in Internal Medicine, Emergency Management, Wound Management, Pediatric Emergencies, and Trauma Stabilization. Diane's skills include the evaluation and treatment of acute and chronic patients, medication management, outpatient consultations, and Hospital Admissions. We're glad to have such medial expertise as part of our Wellness Panel.
Start your morning with an immersive expo, praise & worship, healthy brunch, powerful keynote speaker, wellness panel, & workout. You don't want to miss this unique opportunity to equip and activate your life in Christ. Come dressed in your athleisure wear, comfortable shoes, & invite your friends for a fun faith-filled day.
Register HERE.
Faith Assembly Church
9307 Curry Ford Road



Orlando

,

FL

32825

United States



Saturday, September 30, 2023 (9:00 AM - 12:00 PM) (EDT)