Description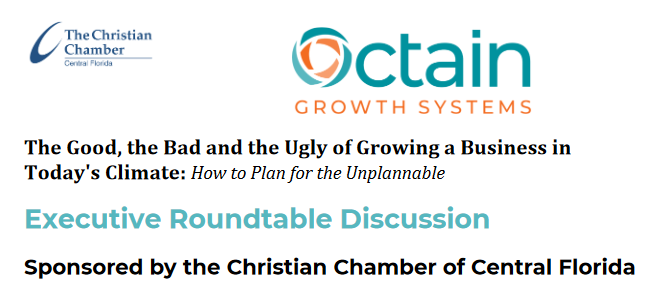 Members and non-members are welcome to attend
Agenda: To provide you with a new perspective and framework for growing your business in any economic climate. Peer to Peer discussion and insights.
Group Introductions and discussions
How are you planning to grow?
What are you seeing as the growth negatives?
How confident are you in your foundation for growth in uncertain times?
What you will come away with:
A Growth Model that has a proven track record
How to use marketing as a solution and not just an expense
The action steps you need to succeed in an unpredictable market
OUR BOLD CLAIM: When properly implemented, the Predictable Profit and Growth System model you will learn provides the structure and framework for predictable and consistent growth in any economy.
About the Presenters:
Clare Price, CEO, Octain Growth Systems
Clare is the President and CEO of Octain Growth Systems, the systems, process, and tools company that helps you take control of your marketing through smart execution. Her new book, Smart Marketing Execution, defines the strategies, execution process and automated systems mid-market companies need to accelerate their profits, performance and productivity with Marketing.
Rosemary Paetow, CEO, Think inStrategy
Rosemary is the President and CEO of Think inStrategy, a leadership training company that helps you build better teams, be consistently more profitable and have balance in your life. Her upcoming book, Better. Bigger. Bolder defines how to move your organization from productivity to performance, how to develop a strategic lens that aligns thinking and how to be profitable no matter what.