CENTRAL FLORIDA CHRISTIAN CHAMBER OF COMMERCE
We Love Our Members!
We Build Kingdom | Business | Community
'Now I See' by Janet Perez Eckles Releases April 25
'Now I See' by Janet Perez Eckles Releases April 25
MEDIA CONTACT FOR IMMEDIATE RELEASE
Janet Perez Eckles, 407.433.1085 janet@janetperezeckles.com
Inspirational New Book Shines Light on God's Power to Transform Tragedy into Victory
'Now I See' by Janet Perez Eckles Releases April 25
ORLANDO, Fla. - Roughly every 11 minutes someone commits suicide. Life simply becomes too much, driving anxiety and depression to alarming heights.
Janet Perez Eckles' paralyzing despair could have made her another statistic. After all, how do you face the murder of your child?
In her new memoir, Now I See: How God's Amazing Grace Transforms Betrayal, Blindness and Heartache to Shining Joy, Janet shares her riveting life story to illustrate how God meets sorrow with His grace.
"The richness of joy in my life is proof of God's power to lift the sorrow and bring peace to any turmoil," says Eckles.
"This captivating journey from tragedy to triumph through perseverance and deep faith in God will stir your heart and transform how you navigate life's trials. Unthinkable challenges and unexpected adversities," said Jason Noble, pastor and motivational speaker featured in the Twentieth Century Fox film Breakthrough and on the
marketing team for the Kingdom Story film Jesus Revolution.
Despite of her blindness, Eckles' contagious joy inspires audiences with uplifting answers to these questions:
How do you go on after the murder of your child?
How do you forgive the man who killed your son?
How do you rise above drastic changes such as blindness?
How do you begin again after infidelity and a broken marriage?
About Janet:
Blindness or tragedies haven't stopped Janet Perez Eckles from becoming the author of five inspirational books, an international speaker, a radio host, and founder of JC Empowerment Ministries. Her writings have appeared in thirty-two Chicken Soup for the Soul titles, and hundreds of print and online publications. She has been featured on Christian radio and TV programs from Focus on the Family, Lifestyle Magazine to the 700 Club, and on the cover of Hispanic Woman Magazine. Janet resides in Florida with her husband Dale and family.
# #
Media interested in interviews with Janet Perez Eckles please contact her at 407.855.1565 janet@janetperezeckles.com -/ For additional information, review Janet's press kit: https://janetperezeckles.com/press-kit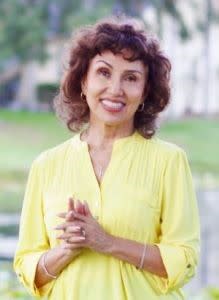 Janet Perez Eckles— International speaker, author and founder of JC Empowerment Ministries…
…showing you how to see the other side of adversity.
New Release: Now I See: How God's Amazing Grace Transforms Betrayal, Blindness and Heartache to Shining Joy
Additional Info
Media Contact : Janet Perez Eckles, 407.433.1085, janet@janetperezeckles.com