Notice of Annual Meeting - Creating Kingdom Commerce Across the Nation
Central Florida Christian Chamber members are at the forefront of advancing the Kingdom of God through the marketplace!
WE ARE ONE NATION UNDER GOD!
Get an inside look at the Christian Chamber's accomplishments over the past year and our vision for the future.
Build relationships in the Christian business community while hearing firsthand all the great things God is doing through your partnership with the Chamber!
In a year when there have been many challenges, the Christian business community has persevered and made progress. Christian Chamber members are accelerating the mission to build Kingdom, build business, and build community.
Members and guests are welcome to attend and learn more about the vision for the local and national Christian Chamber of Commerce.
We invite civic leaders, church leaders, and the Christian business community to join us at this event. Build stronger relationships in the Christian Business Community and look inside at the chamber's accomplishments over the past year and our vision for the future.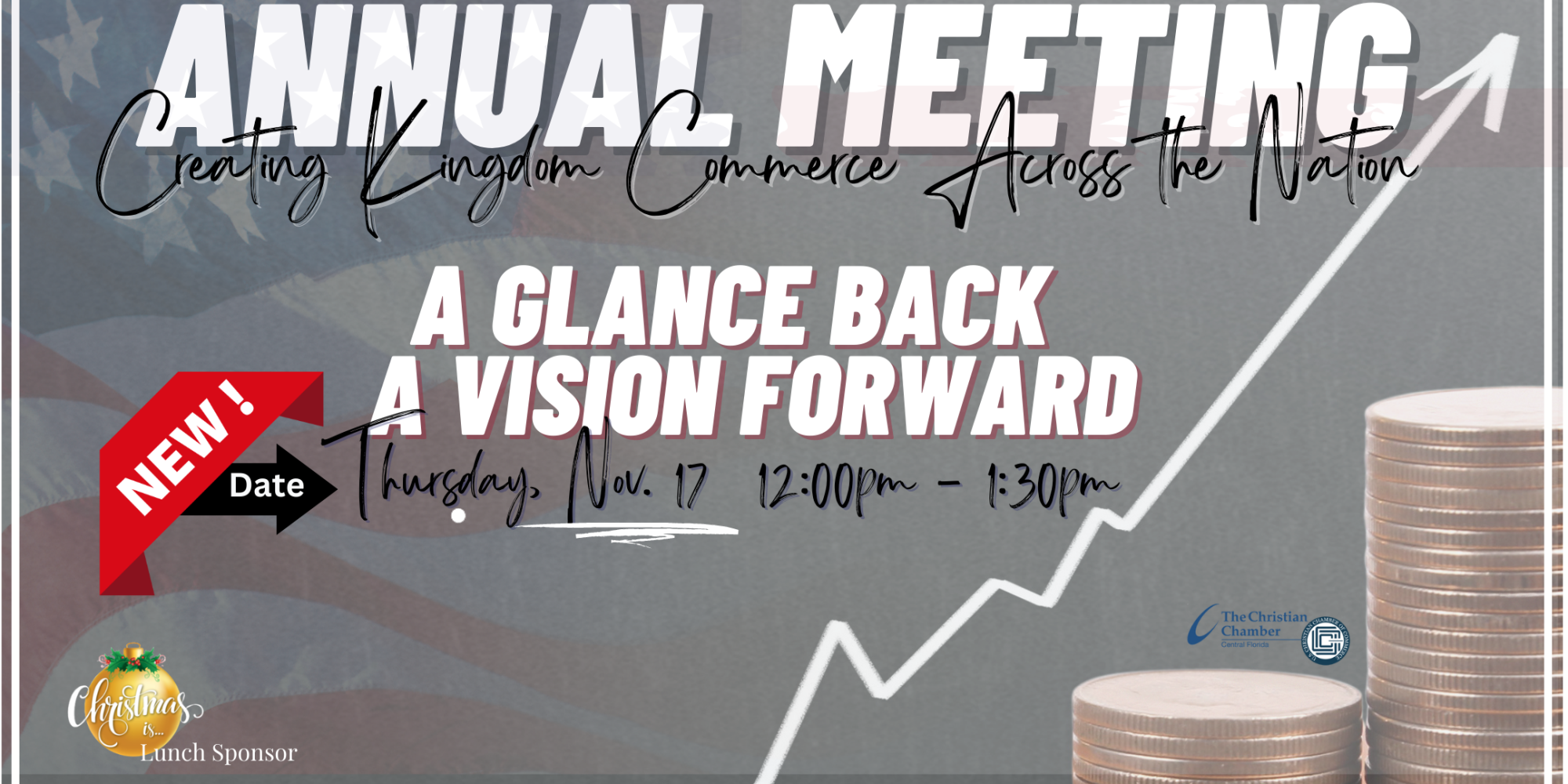 For those that already purchased a ticket:

NO NEED TO CONTACT US if you have a ticket and can attend on 11/17. Your ticket will roll forward to the new date, and we will be expecting you on 11/17.
PLEASE CONTACT US If you have a ticket and are UNABLE to attend the new date. We will work with you to roll your ticket to the December or January relationship-building lunch date.
EVENT SPONSORED BY: CHRISTMAS IS
Christmas Is, is a kaleidoscope of the most loved music of all time, electrifying dance, meaningful narrative, colorful costumes, dramatic lighting, and vivid special effects…this is 2 hours of fun, excitement, and celebration of the most significant event in all of history.
Over 100 singers, dancers, instrumentalists, actors, and soloists will take us from the snowy North Pole to the historic town of Bethlehem, with many musical stops in between. Special guests include Jerry Nelson, The American Sound Machine, Miss Kathey's Academy for the Performing Arts, Bob Pickett & The St. Louis Concert Choir, Santa Claus, and special surprise guests. A perennial seasonal favorite in theaters, auditoriums, and arenas worldwide, celebrating their 50th anniversary of taking Music to the World! Filmed at Calvary Orlando in Winter Park, Florida this made-for-television special is on December 3, 2022